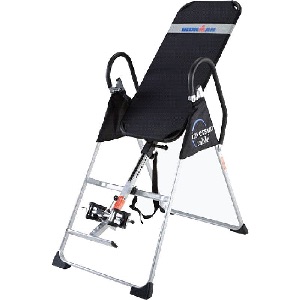 The IronMan Inversion Table is built with a durable tubular steel frame with a scratch resistant powder coated finish. The table can support up to 300 lbs and user height up to 6'6". It has tough rubber non-skid floor stabilizers that provide stability when inverting. Extra long safety handles provide easy return to the an upright position and vinyl safety covers are added for safety. The backrest consists of tough nylon that is extremely durable, yet comfortable when the table is in use. The ergonomically molded ankle holders provide comfort and security. When not in use, the inversion table can be folded.

Construction Features
Durable tubular steel frame, scratch resistant powder coated finish
Foam covered steel extra long safety handles
Tough rubber non-skid floor stabilizers to prevent any movement during inversion
Comfortable and durable nylon backrest
Ergonmically molded ankle cushions hold ankles securely and comfortably
Gravity 1000 will invert up to 90 degrees
Supports up to 300 lbs
3 adjustments for different starting inversion angles
Folds for storage
Height adjustment up to 6'6"
Easily adjustable safety tether strap controls the maximum angle of inversion
Durable spring loaded ankle locking system
Safety vinyl side covers to protect hands and fingers

Inversion Benefits
Helps reduce back stress by releiving pressure on vertebrae discs and ligaments
Can reduce fatigue, stress and relaxes the overall body
Can promote stimulation of blood circulation to relieve stiff muscles
Helps reduce the effect of aging due to gravity
Increases body flexibility to improve athletic performance
Helps relieve lower back aches due to sitting or standing.
Product Set Up Dimensions 49"L x 25" W x 62"H 124L x 64W x 158H cm
Product Folded Dimensions 80"H x 25"W x 17"D 203H x 64W x 43D cm
Product Weight 46 lbs 21 kg
Carton Dimensions 53"L x 28"W x 5.5"H 135L x 71W x 14H cm
Carton Weight 58lbs 26 kg
Carton Cube 5.04 Cu Ft

Average time to assemble this table is one hour. This table can be folded for storage by removing the bed assembly from the main frame and stored in two pieces. when the Inversion Table rotated past the vertical inverted position the bed becomes locked.