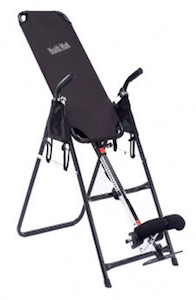 Health Mark Pro Inversion Table
IVO18660
Weight 67 lbs.
Dimensions: Width: 28" x Length: 45" x Height: 58"

Health Mark's Pro Inversion table was designed to meet the high market demand for a quality inversion table at an affordable price. With this in mind, the Pro Inversion table provides solid value without skimping on quality. The Pro Inversion table is great for anyone interested in the health benefits of inversion. This no-frills table is just right for those seeking a good value. The Health Mark Pro Inversion table has a variety of adjustments to accommodate just about anyone and it folds flat for convenient out of the way storage.

Product Features:
* Shield Frame prevents pinching
* Ultra comfortable ankle bracket
* Firm and durable 430 denim nylon bed
* 25 adjustments to accomodate any person up to 6' 6"
* Pivot arm placement gives you complete control over your inverting
* Weight Capacity: 300 lbs
* Folds flat for storage

Health Mark Pro Inversion Table helps decompress discs to reduce pressure on your spine, stimulate blood flow and reduce back pain & stress. The Health Mark Pro inversion table features a shielded frame to prevent pinching, four adjustments to control rotation speed, a tether to stop rotation at the angle you choose and adjustable ankle holders, all at a good value. Made of heavy gauge steel tubing, this inversion table will accommodate any person up to 6'6" tall & 300 pounds. Health Mark provides a 90-day warranty against manufacturing defects on all Pro Inversion Tables.